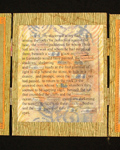 Passage from Proust on three hinged boards with orange and green handmade papers, and repositionable, velcro-backed adjectives.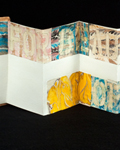 BOOK/ACCORDION: Untitled (For beauty is a series of hypotheses)
Accordion book with overlapping panels of multi-colored dyed paper imprinted with letters, forming a phrase from Proust.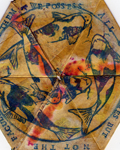 Text from Proust and rubber-stamped koi fish (one face of hexaflexagon)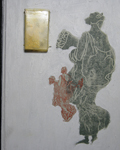 BOOK/ALTERED: Untitled (Last days of Pompeii)
Altered book.White-painted cover has image of a smaller and a larger woman and a small plastic box attached.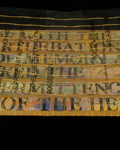 Cardboard structure with yarn and text from Proust on interwoven strips of transparent acetate and hand-colored papers.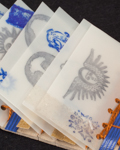 Weaving on stiff board base with translucent pages; rubber stamps of sun and stars, and blue and orange yarn.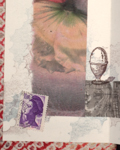 Accordion book with red and white shibori-cloth covers; rubber stamps, collage and postage stamp inside.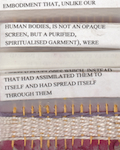 Weaving on stiff board base with translucent pages and text from Proust; white, lavender and orange yarns.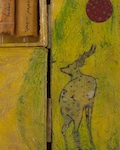 Yellow- and orange-painted box with hinged double lid contains 5 hand-written scrolls mounted on rods, yellow- and green-painted interior, with images of deer.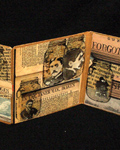 BOOK/ACCORDION: Untitled (Atmospheric changes)
Accordion book collage with text from Proust, pages from Proust, rubber stamps of Proust inside various glass jars, sky images and a small thermometer.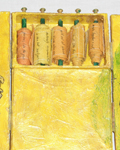 BOOK/HINGED: Untitled (Scroll book)
Five miniature scrolls of yellow, gold and orange paper on green rollers with hand-written texts. Scrolls are mounted in a small yellow box with images of deer, and left- and right-hinged covers.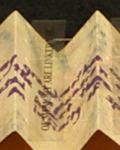 BOOK/WOVEN: Untitled (Small loom book)
Object made from gold board, text from Proust on accordion-folded, hand-colored paper, with gold thread passed through the peaked folds, and text on acetate across the threads.