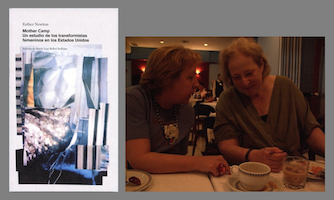 Maria José Belbel Bullejos has published a Spanish-language edition of Esther Newton's Mother Camp: Female Impersonators in America, first published in 1972. Based on field work in the mid-1960s, this anthropological study of drag performers and performance spaces has been of enduring interest to Eve Sedgwick and other queer theorists. The translation is by Belbel and Paloma Uria, and is available from Múltiplos.
As we've noted previously, Belbel has been active in making available in Spanish the work of Sedgwick and other queer theorists. She is currently planning the 2017 publication of a Spanish translation of Sedgwick's Tendencies.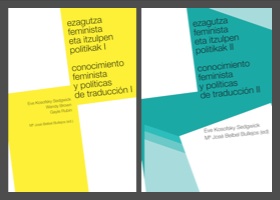 We are pleased to report that Maria José Belbel Bullejos has edited two volumes of translations into Spanish and Euskara for Arteleku. In Spanish, the volumes are titled Conocimiento feminista y políticas de traducción I and II. Volume I contains translations of Eve Sedgwick's essay "Thinking Through Queer Theory" as well as essays by Wendy Brown and Gayle Rubin. Volume II has translations of Sedgwick's "Pedagogy of Buddhism," "Paranoid Reading and Reparative Reading," and the introduction to Touching Feeling. Volume II also includes an interpretive essay by Maria José Belbel Bullejos. The translations into Spanish are all done by Maria José Belbel Bullejos, and the translations into Euskara are by Juan Mari Mendizabal.
Additional information is available from Arteleku: here for I, and here for II. PDFs of the full texts are accessible from these pages by clicking on the cover pictures. Direct links to the PDFs are also here for volumes I and II.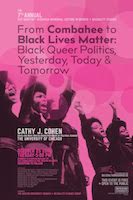 Professor Cathy Cohen of the University of Chicago will give this year's lecture in Boston University's Honoring Eve series. Her title is "From Combahee to Black Lives Matter." As in years past, the Boston University Gender + Sexuality Studies Group has organized the lecture. Here is their description:
"In a history of black queer politics from the Combahee Collective to the contemporary Black Lives movement, Cohen identifies a new form of activism supported by a network of groups, many of which are led by young black women who identify as queer. Rather than organizing around a single charismatic leader and immediate policy changes, the new leaderful movement seeks expansive cultural transformation on behalf of marginalized communities.
"Cathy Cohen is the David and Mary Winton Green Professor of Political Science and chair of political science at the University of Chicago. She is the author of Democracy Remixed: Black Youth and the Future of American Politics and The Boundaries of Blackness: AIDS and the Breakdown of Black Politics, as well as the coeditor, with Kathleen Jones and Joan Tronto, of Women Transforming Politics: An Alternative Reader. In addition to her transformative scholarship on race, gender, and politics, Cohen is the principal investigator of two major social change projects: The Black Youth Project and the Mobilization, Change and Political and Civic Engagement Project."
A video of Professor Cohen's talk will be posted on BU's Honoring Eve website.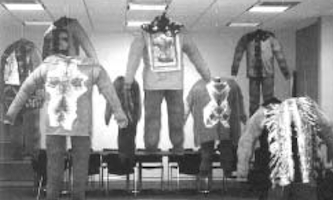 In Spring 2000, Eve Sedgwick presented an exhibition called "In the Bardo" at the CUNY Graduate Center. In conjunction with the exhibition, Sedgwick gave a talk titled "Come As You Are." Maggie Nelson, then a doctoral candidate, wrote about the event, and recently, our Ti Meyerhoff was delighted to come across the article in the publication CUNY Matters. Nelson has graciously allowed us to reproduce it here.
Nelson describes Sedgwick's "installation of her fiber art, in the form of a dozen or so large stuffed figures hanging from the ceiling, clothed in different kinds of cloth, paper, felt, and soie mariée, in varying shades of indigo blue." As Nelson explains, the bardo "(Tibetan bar=in between + do=suspended,thrown)" referred to by Sedgwick "is the space between contracting a terminal illness and death itself…. The hanging figures Sedgwick created represent aspects of her experience in the bardo: 'the disorienting and radically denuding bodily sense generated by medical imaging processes and illness itself' on the one hand, and 'the material urges to dress, to ornament, to mend, to re-cover, and heal' on the other."
The talk was accompanied by slides. Describing the "three-tiered presentation," Nelson writes "Sedgwick spoke from a podium in the rear as we in the audience faced the screen. This increased the effect of her voice coming from a strangely suspended place and evoked a sense of meditation rather than scrutiny. The large stuffed bodies dangling in the room both obscured and framed one's vision. When I tried to look at Sedgwick, for example, I would see her torso, but a translucent blue shawl hanging from one of the figures covered her face."
Nelson calls Sedgwick's talk "emotional, inspiring, unforgettable." Nelson studied with Sedgwick at the Graduate Center and, much more recently, has written extensively and brilliantly, in her book The Argonauts, about Sedgwick's work and its influence on her.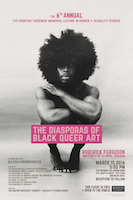 The Boston University Gender + Sexuality Studies Group has announced that the Sixth Annual Eve Kosofsky Sedgwick Memorial Lecture will be offered by Professor Roderick Ferguson, a pioneer of queer of color critique. His lecture is titled "The Diasporas of Black Queer Art."
Professor Ferguson is the author of The Reorder of Things: The University and Its Pedagogies of Minority Difference (2011) and Aberrations in Black: Toward a Queer of Color Critique (2004). He teaches at the University of Illinois at Chicago.
The lecture will be given March 15th, 2016 at 5:00pm in the BU Photonics Colloquium Room (8 St. Mary's Street, 9th floor). A reception will follow.