A conference marking the thirtieth anniversary of the publication of Eve Kosofsky Sedgwick's Between Men: English Literature and Male Homosocial Desire will be held on October 23. The Center for the Humanities at the CUNY Graduate Center is hosting the event in collaboration with the History of Art Department at the University of York. The day-long conference will have three sessions of short talks reflecting on the book, its reception, and its continuing influence. There will also be a panel discussion among a number of the editors who published her work. Further information, including the schedule and a list of participants, is available here.
Left image: Eve Sedgwick writing Between Men, circa 1982.
Right image: Manet's painting "Le Dejeuner sur l'herbe," altered by Sedgwick for the cover of Between Men.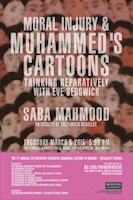 Professor Saba Mahmood spoke on "Moral Injury and Muhammed's Cartoons: Thinking Reparatively with Eve Sedgwick." Mahmood is Associate Professor of Sociocultural Anthropology at the University of California Berkeley. As in years past, the Boston University Gender + Sexuality Studies Group organized the lecture. Here is their description:
"Taking its cue from Eve Sedgwick, this talk offers a 'reparative reading' of the ongoing struggle over the publication of cartoons of the Prophet Muhammed in Europe. Rather than read these debates as a standoff between religious taboos and secular freedoms, Mahmood unpacks the distinct epistemological and interpretive stakes at the heart of such conflicts.
"Professor Mahmood's work focuses on the interchange between religious and secular politics in postcolonial societies with special attention to issues of embodiment, cultural hermeneutics, law, and gender/sexuality. Her work is best known for its interrogation of liberal assumptions about the proper boundary between ethics and politics, freedom and unfreedom, the religious and the secular, and agency and submission. She is the author of The Politics of Piety (2nd edition, 2011) and, with Talal Assad, Wendy Brown, and Judith Butler, Is Critique Secular? Blasphemy, Injury, and Free Speech (2009)."
A video of Professor Mahmood's talk will be posted on BU's Honoring Eve website.
Two new essays about Eve Sedgwick's critical writing have recently appeared. Professor Anne-Lise François's essay "Late Exercises in Minimal Affirmatives" appears in Theory Aside, a collection edited by Jason Potts and Daniel Stout (Duke 2014). In her essay, François discusses "the lateral movement by which in their late work Barthes and Sedgwick set aside the burden of discontented, perfective energies and leave off prying, suspicious efforts to uncover concealed truth. They prefer instead a form of aesthetic engagement that moves laterally, arranging its materials side by side…." In her epigraph, François quotes Sedgwick's Touching Feeling: "Beside is an interesting preposition…because there is nothing very dualistic about it; a number of elements may lie alongside one another, though not an infinity of them."
Jonathan A. Allan's essay "Falling in Love with Eve Kosofsky Sedgwick" appears in a special "Queer/Affect" issue of Mosaic: A Journal for the Interdisciplinary Study of Literature. Allan writes: "What does it mean to love a writer? This essay explores a number of writers and critics who have expressed love for Eve Kosofsky Sedgwick. I argue that love affords another model for thinking through questions of influence, particularly a theory of influence informed by queer theory and affect studies."
We would be grateful if readers let us know about new work related to Eve Sedgwick. Please contact us at info[a]evekosofskysedgwick.net.
"Writing the History of Homophobia," a previously unpublished manuscript from Eve Sedgwick's archive, has now been published in Theory Aside. This collection, edited by Jason Potts and Daniel Stout, is published by Duke University Press. Eve's text is thought to have been given as a talk at Amherst College, where she taught from 1984 to 1988. She describes the impossibility of learning, for example, about Oscar Wilde's homosexuality from the Encyclopedia Britannica of her childhood if one doesn't know about it already. She takes this as an emblem of "the extremely elusive and maddeningly plural ways in which cultures and their various institutions efface and alter sexual meaning." She goes on to say that "at least for Western society of the last two millennia, the many complicated paths by which, as we have said, sexual meaning is falsified, denied, and altered, all lead homosexuals to much the same thorny and difficult place."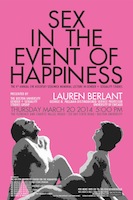 The Boston University Gender + Sexuality Studies Group has announced that Lauren Berlant will give this year's lecture, "Sex in the Event of Happiness."
"Our theories of the historical event tend to take the shape of trauma and catastrophe. What if we saw in sex the kind of event that structures our relation to history, intimacy, and sociality? Reading with Last Tango in Paris (Bertolucci, 1972), thinking about sexual revolution, and contesting the desexualization of so much queer theory, this lecture poses questions about where the sexual revolution went awry and what's left for sexual optimism."
Berlant is the George M. Pullman Distinguished Service Professor, Chicago University, and her most recent book, Sex, or the Unbearable is a dialogue with Lee Edelman (Duke 2013).
The lecture will take place at 5:00 pm in the Florence and Chafetz Hillel House, 213 Bay State Road, Boston. It is free and open to the public. A reception will follow.