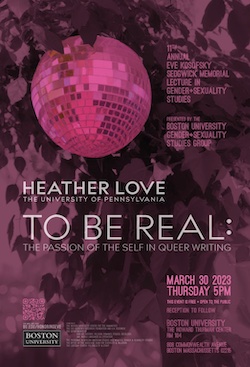 The 11th annual Boston University Eve Kosofsky Sedgwick Lecture in Gender & Sexuality Studies will be delivered by Dr. Heather Love at 5pm on March 30, 2023. Dr. Love's talk is titled "To Be Real: The Passion of the Self in Queer Writing." The talk will be given at Boston University and recorded for future viewing.
Heather Love is Professor of English at the University of Pennsylvania. She received her A.B. from Harvard and her Ph.D. from the University of Virginia. She is the author of Feeling Backward: Loss and the Politics of Queer History (Harvard) and the editor of a special issue of GLQ on Gayle Rubin ("Rethinking Sex") and the co-editor of a special issue of Representations("Description Across Disciplines"). Underdogs: Social Deviance and Queer Theory (University of Chicago Press) came out in Fall 2021.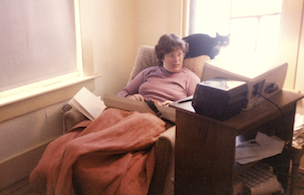 The application deadline for the 2023-2024 Eve Kosofsky Sedgwick Travel Grant, funded by the Eve Kosofsky Sedgwick Foundation and supported by the Sallie Bingham Center for Women's History and Culture, is Friday, February 24, 2023 at 6:00 pm EST.
This opportunity offers up to $1500 to support research using the Eve Kosofsky Sedgwick Papers. In addition to supporting academic research aimed at producing publications and dissertations, these grants will support a wide range of other creative projects such as educational initiatives, exhibitions, films, multimedia products, and other artistic works. Sedgwick Travel Grant recipients will be asked to submit a brief report of their grant-supported activities at the conclusion of the grant cycle.
To apply for the Eve Kosofsky Sedgwick Travel Grant, visit the Rubinstein Library's page.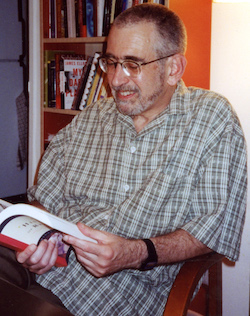 Jonathan Goldberg, a dear friend of Eve Kosofsky Sedgwick, passed away on December 9th following a long illness. As detailed in his obituary, published on Sunday, December 18, in the New York Times, Goldberg was a highly influential and prolific scholar working in "the fields of early modern British literature, poststructuralist literary studies, and LGBTQ studies and queer theory." Among his many other accomplishments, Goldberg made invaluable contributions to the dissemination and evaluation of Sedgwick's work.
When Sedgwick came to Duke University in 1988, Goldberg was on the faculty of Johns Hopkins University, but he was coming frequently to Duke to visit his partner, Michael Moon, who had joined the Duke faculty the year before. Sedgwick soon became close friends with both Moon and Goldberg. They learned from each other's work and together participated in creating and editing Series Q at the Duke University Press, which describes the series as having brought "a theoretical and interdisciplinary lens to gay and lesbian studies, approaching questions of sexuality from a queer angle."
Their friendship continued after Sedgwick moved to the Graduate Center of the City University of New York, while Moon and Goldberg moved to Emory University. When Sedgwick's own illness became incurable, she asked Goldberg to be her literary executor. Following her death in 2009, Goldberg undertook the difficult task of editing her more recent unpublished manuscripts, some of which existed in multiple versions, into a coherent volume of essays (The Weather in Proust, Duke University Press, 2011). He also contributed an essay of his own to a recent collection of essays about Sedgwick's work (Reading Sedgwick, edited by Lauren Berlant, Duke University Press, 2019). One of his last projects was a monograph assessing the critical response, following her death, to Sedgwick's work (Come As You Are, After Eve Kosofsky Sedgwick, punctum books, 2021); this book also contains a previously unpublished talk of Sedgwick's, "Come As You Are," which Goldberg describes as representing "a significant bridge between her earlier and later work, sharing with her book Tendencies the ambition to discover the 'something' that makes queer inextinguishable."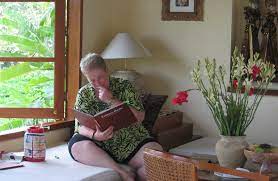 Annual travel grants to support research using the Eve Kosofsky Sedgwick Papers at the Sallie Bingham Center are funded by the Eve Kosofsky Sedgwick Foundation and administered through Duke University's Rubinstein Rare Book & Manuscript Library. The 2023-2024 grant application cycle is now open.
To apply for the Eve Kosofsky Sedgwick Travel Grant, visit the Rubinstein Library's page.
Please note that the Eve Kosofsky Sedgwick Travel Grant is administered solely by the Rubinstein Library. Queries to the Eve Kosofsky Sedgwick Foundation about the travel grant will not receive a reply.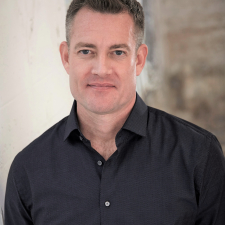 This talk contributes to the understanding of queer studies as a class-based knowledge project. Brim traces the relationship between queer academia's aspirational mood and the increasing extraction and relocation of queer faculty and students from working-class places to elitist ones. What do such simultaneous acts of community building and busting mean for the field? Brim suggests that within this complicated dynamic the need—and the opportunity— to bolster cross-class queer studies relationships comes into focus. The video recording is available to view here.
Matt Brim is Professor of Queer Studies in the English department at Colllege of Staten Island, City University of New York, with a faculty appointment at the Graduate Center in the Women's and Gender Studies M.A. Program. His most recent book, Poor Queer Studies: Confronting Elitism in the University(Duke University Press, 2020), reorients the field of queer studies away from elite institutions of higher education and toward working-class schools, students, theories, and pedagogies. Poor Queer Studies won the Working-Class Studies Association's 2021 Jake Ryan and Charles Sackrey Award and was a finalist for the O.L. Davis Jr. Outstanding Book in Education Award, presented by the American Association for Teaching and Curriculum.
Duke's annual Queer Theory Lectures honor and celebrate the work of Eve Kosofsky Sedgwick. Over the last decade, the Sedgwick lecture has featured leading scholars in queer theory, including Lauren Berlant, José Muñoz, Lee Edelman, and Samuel R. Delany. Previously recorded Queer Theory Lectures can be viewed here.