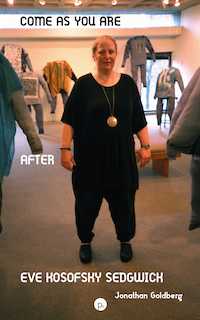 Jonathan Goldberg's new book, Come As You Are: After Eve Kosofsky Sedgwick was published this spring by Punctum.
Jonathan Goldberg is Arts and Sciences Distinguished Professor Emeritus at Emory University. His most recent publications include Sappho ]fragments (punctum 2018), and Saint Marks: Words, Images, and What Persists (Fordham, 2019). He is the editor of The Weather in Proust, the posthumous publication of Eve Kosofsky Sedgwick, whose transformative books include Epistemology of the Closet, A Dialogue on Love, and Touching Feeling.
Duke's annual Queer Theory Lecture in Honor of Eve Kosofsky Sedgwick was given on Thursday, October 14, 2021 by Dr. Jules Gill-Peterson. Dr. Peterson's talk was titled "Queer Theory Killed Venus Xtravaganza: What's Trans About Queer Studies Now?" The talk can be viewed online here.
Jules Gill-Peterson is Associate Professor of English and Gender, Sexuality, and Women's Studies at the University of Pittsburgh. Jules is the author of Histories of the Transgender Child (University of Minnesota Press, 2018) and is currently at work on a book project entitled Gender Underground: A History of Trans DIY.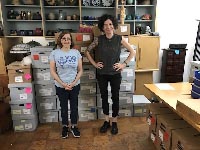 The Sallie Bingham Center for Women's History & Culture in Duke University's Rubenstein Library is now the permanent home for the archive of Eve Kosofsky Sedgwick. When Sedgwick died in 2009, the contents of her archive were inherited by H. A. Sedgwick, who has donated them to Duke.
Over the past decade, the books, papers, and artworks comprising the archive have been meticulously organized and documented, principally by Sarah McCarry, working first with H. A. Sedgwick and later with the Eve Kosofsky Sedgwick Foundation. During this time, the process of selecting a new home for the archive was going on. Many highly suitable institutions expressed interest in housing it, especially after Jane Hu's article about it appeared in the New Yorker. Duke stood out because of its superb facilities and staff; because of the inter-disciplinary cooperation among their special collections, which is well-suited to the breadth of Sedgwick's interests and activities; and most of all because of the sustained yet patient enthusiasm of Laura Micham, who is the Merle Hoffman Director of the Sallie Bingham Center.
Once a gift agreement had been signed last summer, and moving arrangements had been made, Micham and McCarry, working together in Sedgwick's studio over the course of a week, prepared the 73 boxes of materials, some of which are shown in this photo (with Micham on the left and McCarry on the right). Everything was palletized and trucked to Durham, North Carolina, where it is now safely housed in the storage facility of Duke's library, and intake processing has begun. This material joins 8 boxes of papers that Sedgwick had left at Duke when she moved to the The Graduate Center at the City University of New York.
With the disruptions caused by COVID-19, it is not possible at present to say exactly when, but it is hoped that the Eve Kosofsky Sedgwick archive will be ready to receive visitors by sometime in 2021. An announcement will be made, and further information, including a collection description and a finding aid, will be available at that time.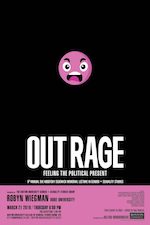 The Ninth Annyal Eve Kosofsky Sedgwick Lecture at Boston University, titled "Outrage" and presented by Robyn Wiegman, is available to watch online here.
Robyn Wiegman is Professor of the Programs in Literature and Gender, Sexuality, and Feminist Studies, and former Margaret Taylor Smith director of Women's Studies at Duke University (2001-2007).