Divinity: A Dossier, A Performance Piece, A Little Understood Emotion (Co-written with Michael Moon)
James Boaden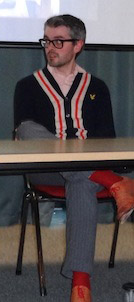 'Divinity: A Dossier, A Performance Piece, A Little Understood Emotion' by Eve Kosofsky Sedgwick and Michael Moon is a chapter that, twenty years on, requires a little context. The actor and singer Divine acts as an emblem for the chapter – to brutally reduce this long chapter's argument – in his body, the two authors find a divine coming together of the fat diva with the gay man, and suggest that, for some cross-dressers (to use their term), it is the body itself that suggests the donning of drag. 
Their argument is made at a moment when drag had emerged as a major theme within feminist theory, and when the transvestite had become a much discussed icon. The text is written in order to directly engage with Marjorie Garber's book Vested Interests: Cross-Dressing and Cultural Anxiety and Elaine Showalter's well-known, and much anthologised, essay 'Critical Crossdressing: Male Feminists and the Woman of the Year'. The former text suggested, in part, that drag was a form of masquerade that could be donned and doffed at will as a form of critical gender play; Showalter for her part interrogated the way in which male critical theorists had suddenly taken up feminist tropes in their work and compared this to the movie Tootsie, a film which concludes with the sentiment that the ideal woman is really a man. Sedgwick and Moon mention Judith Butler's Gender Trouble: Feminism and the Subversion of Identity only in passing (it is referenced elsewhere in the book), yet it is the volume which set to bed Showalter's qualms and argued that Garber's observations could be understood in terms that went quite beyond play. 
Today, there is a tendency to understand this moment in the early '90s when queer theory emerged – the moment so triumphantly heralded in the introduction to Sedgwick's volume – as signalling the end of seperatist identity politics, within both theoretical writing and activism. This, of course, was never the aim of this work, as is spelled out in the introduction, yet it has been one way in which it has been caricatured. As with the narrative of waves of feminism, there is often an idea of a simplistic, almost adolescent version of gay and lesbian thinking that emerges in the 1970s in the USA, which is then brought to task in the shadow of the AIDS crisis, and matures into the complexity of queer theory from the 1990s onwards. 'Divinity' is interesting for me for the way in which it looks at Divine's work across the star's lifetime and suggests that, at the moment of Gay Liberation, there were currents that could never fit this reductive way of thinking.
This chapter has been particularly useful for me in thinking through several current debates within queer theory about queer temporality, by authors such as Judith Halbertam, Elizabeth Freeman, Heather Love, Jose Munoz, Ann Cvetkovich, Christopher Reed and Christopher Castiglia, and a number of artists who have taken up their claims within their work. These writers look at the way in which queer work challenges conventional notions of temporality through strategies of revival, restaging, and an attention to the archive. Artists taking up these ideas include Conrad Ventur who has restaged Andy Warhol's screentests, with particular attention paid to the trans superstar Mario Montez; Renate Lorenz and Pauline Boudry's films and installations that engage with the photographic archive – reviving Arthur Munby and Hannah Cullwick's images; or Alla Nazimova's dance as Wilde's Salome. Zackery Drucker's work with Flawless Sabrina offers a rethinking of the drag pageants of the 1960s, while Liz Rosenfeld revives the work of the lesbian filmmaker Barbara Hammer. A.K. Burns and A.L. Steiner describe their work Community Action Center as a "sociosexual video which incorporates the erotics of a community where the personal is not only political, but sexual". They state 
This project is a small archive of an intergenerational community built on collaboration, friendship, sex and art[… .T]he video seeks to expose and reformulate paradigms that are typical of porn typologies, intentionally exploiting tropes for their comical value, critical consideration and historical homage.
Each of these works sees the trans body as not only crossing genders, but traversing temporalities.
Burns and Steiner develop a pornographic visual lexicon from subcultural sexual practices that are often staged in the trappings of an imagined past. Moon and Sedgwick examine the way in which John Waters' work with Divine reflects the development of a queer subculture in the USA in the1970s, following the Stonewall rebellion. The films are far from the only reflections of this newly overground culture in the period. Moon understands Waters' films of the '70s as derived from and contributing to a "whole range of novel and newly visible social and cultural practices of the time", he sees gay men and lesbians as often at the vanguard of these practices. He lists radical drag; and glitter drag as a style of mass performance – naming Mick Jagger and David Bowie; exploitation films; collecting kitsch; cults of 'sleeze' including: anonymous public sex, S&M, golden showers, "performing, filming and consuming pornographic films, videos, and magazines". Before going on to discuss the ambivalence with which Waters presents gay men in these films. Of course, these 'practices' as Moon calls them are far from the repertoire of 'positive imagery' which was associated with gay liberation of the 1970s by many activists and cultural producers working in the 1990s.
The line between the celebration of sexual dissidence as it appeared at the queer moment outlined by Sedgwick in Tendencies' introduction and earlier 'positive representations' is laid out by  B. Ruby Rich in her foundational article on the New Queer Cinema in 1991. Discussing the films of Todd Haynes, Tom Kalin, and Isaac Julien – which all used modes of pastiche – she suggested that they definitively broke with "older humanist approaches and the films and tapes that accompanied identity politics". What marks the contemporary art works that interest me is an embrace of Rich's New Queer Cinema that also encompasses both the positive images of filmmakers associated with Gay Liberation, such as Barbara Hammer's lesbian advertisements (to use her phrase), or the complex films of Rosa von Praunheim, as well as the contemporaneous dissidence represented by Waters' films and the other examples I have shown in the powerpoint. Moon and Sedgwick seem to be, to some degree, anticipating recent queer archival works by the attention they bring to the indelible relationship between drag and queer sexuality and also their understanding of the materiality of the body itself. While disavowing essentialist notions of gender and sexual identity, they nonetheless understand that the body matters. The kind of archival queer work I am describing is perhaps most dramatically formulated in A.K. Burns and A.L. Steiner's hour long video work Community Action Center. For Burns and Steiner, certain gay male porn films of the 1970s, like those of Fred Halstead, represent an erotic body where sensation is spread not only right across its surface, but also outwards to the textures of inanimate objects. Burns and Steiner dress their pornographic fantasy not only in the leather trappings of the 1970's S&M scene, but also garland it in the feathers and glitter that characterize the work of Jack Smith, Ulrike Ottinger, and the Cockettes. The work's call to the past is filled with apparent historical contradictions that disturb the way in which queer history has been written. Midway through the film, there is an extended scene of masturbation with a comb of honey which takes place in a field of tall grass, honey dribbling over the body; later eggs drop from within a vagina into a flowing stream; other scenes take place deep within the woods. Even when indoors the body is closely aligned with the natural world as feathers are sewn into the flesh of one of the protagonists in an act of becoming animal. This attachment of the body to nature can be understood as characteristic of the kind of lesbian cultural feminism that Barbara Hammer's filmmaking has been associated with. Hammer is name-checked as an influence in several interviews the artists have given about the work; her 1974 film Menses includes shots of a woman pushing an egg from her vagina while standing in a field that finds its echo in Community Action Center. The commonly held idea is that this version of femininity linked to nature stands at odds with, or at least in a merely complementary role to, the world represented by the films of Fred Halstead, the world of leather bondage and the clone. Some of the fiercest debate within lesbian feminism in the early 1980s revolved around the critique of pornography and lesbian S&M. Too often, these debates seem to have been forgotten in the current return of 'anti-raunch' feminist literature. Rather than forgetting, Community Action Center brings together the two strands of the debate not in order to weakly reconcile them, but rather to place them in powerful juxtaposition. It's the same juxtaposition of past and future, transgression and affirmation, repulsion and desire that lies at the heart of Divine's drag across three decades, and at the heart of his divinity recognized by Moon and Sedgwick.
James Boaden
Department of Art History, University of York
James.Boaden[a]york.ac.uk